I always look forward to Forrester's annual Customer Experience Forum East in NYC. Last year's conference confirmed we had entered the Age of the Customer, and brands across industries recognized it, too. Still, only 8% of the 150+ brands on Forester's Customer Experience Index (CEI) received grades of "excellent." What's everyone doing wrong?
This year, Harley Manning, Forrester's vice president and research director, kicked off the two days by presenting the key concept to developing a great customer experience: think from the "outside in." Specifically, companies need to design their customer experience and process from the customer's perspective. 
Additionally, Manning outlined the six high-level disciplines brands must execute to drive a greater, more memorable customer experience (and to achieve a higher CEI grade, too):
Strategy: Like any multifaceted initiative, a well-defined and specific strategy will act as a blueprint for the design, delivery, management and measurement of the customer experience.
Customer Understanding: Deep knowledge and understanding of who your customer is, along with his expectations, wants, needs, values and perceptions on brand interactions, is the critical next step, and follows the "outside in" concept.
Design: The customer experience should be purposefully designed to implement customer interactions that meet or exceed customer needs, across every live and digital channel. This includes people, products, interfaces, services, and spaces that customers encounter in retail stores, over the phone, or through websites and mobile apps.
Measurement: Capturing all customer touchpoints will help brands quantify customer experience quality consistently across the company and deliver actionable insights.
Governance: This helps brands manage customer experience in a proactive and disciplined way, and is critical to hold people accountable for their roles in the customer experience ecosystem and helps prevent bad experiences.
Culture: Creating a system of shared values and behaviors that focus employees on delivering a great customer experience could arguably be the most powerful of the six disciplines because it incorporates practices from the other five and makes customer experience excellence become a brand habit.
Here are a few customer-centric brands that are already delivering memorable customer experiences from the "outside in":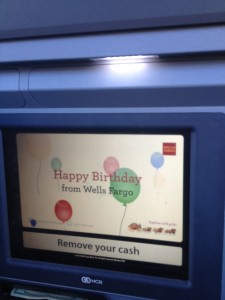 Jamie Moldafsky of Wells Fargo recognizes that a better experience isdeeply rooted in knowing the customer and his journey, and the bank puts this into play by defining signature moments for engagement within each transaction, such as acknowledging the customer's birthday at the ATM. The Wells Fargo CMO best summed up why a great customer experience matters: "It drives new consideration and increases our customer loyalty. It helps strengthen the brand, enhances efficiency, and creates differentiation." We absolutely agree.
David Shapiro at UnitedHealth Group shared how the healthcare provider uses a member journey map, based on personal interviews with Medicare members, as the first step to design and transform the member experience. By taking a page from the Forrester "outside in" playbook, the member journey map helps guide employees from the consumer's perspective, to foster a more personal understanding of members' needs and concerns, said the vice president of member experience for Medicare and retirement.
Paul Heller, Vanguard's general manager of retail banking asked "why are our customers investing with us?" to discover it is emotional: they want more time to enjoy life with less stress. A disciplined system for execution and measurement is how Vanguard delivers superior experiences to seven million customers, resulting in the company's all-star status for customer loyalty and experience, with a CEI score of 83 and a NPS rating of 56 (highest for the investment industry).

John T.A. Vanderslice at Hilton Worldwide

affirmed the importance of innovation, especially for the luxury and lifestyle brands he heads. Hilton's Waldorf Astoria hotel is a high-touch brand in which guests receive a pre-arrival email from a personal concierge, who then cares for them the entire stay, while the Conrad chain is a high-tech brand, where the concierge service is a mobile app. By truly understanding their guests, Hilton delivers innovative customer service solutions in a personal and preferred way to all.
Graham Atkinson, Walgreens' chief marketing officer, advised that by focusing on the customer first, the correct channel will follow. The retailer aims for simplicity and an omni-channel practice as part of its customer experience strategy – to "benefit customers at every touchpoint" so they can easily access the company's products and services at any time.
Did you attend Forrester's Customer Experience Forum East 2013 this week? What were the most profound takeaways for you? Which brands are delivering the most superior customer experience from the "outside in," in your opinion? Feel free to share your thoughts in the comments below.