Last week as I was preparing for a meeting with one of SundaySky's newest customers – a top five U.S. retailer – I came across this eMarketer article, "Video Is the Next Frontier for Email Marketers." The writer states that even though "consumers have shown an almost insatiable demand for online video," 43% of marketers don't use videos in email communications simply because they lacked the respective video content.
43%!! This excuse is on par with "the dog ate my homework."
About two hours after reading this article I attended the meeting I was prepping for and we kicked off a SmartVideo program that will result in over 10 million videos to be viewed by both existing and prospective customers of this top e-tailer before year's end. And each of those videos will be personalized to each viewer regardless of how much or how little video content the retailer provides. How? Through SmartVideo, of course!
SmartVideo enables brands to communicate with customers across the lifecycle through personally relevant, scalable and measurable video, regardless of how much video content is already on hand. For example, the AT&T SmartVideo bill is created, personalized and delivered in real time with zero video content provided by AT&T. The content is provided by the customer's account details. On the other side of the content spectrum, Lenovo's SmartVideo ads include stock video footage complemented with custom animation to deliver an experience that is driving visitors back to Lenovo's website for order conversion. Whether you have a little to a lot o' content, or none at all, it should not deter you from pursuing engaging email communications to your customers.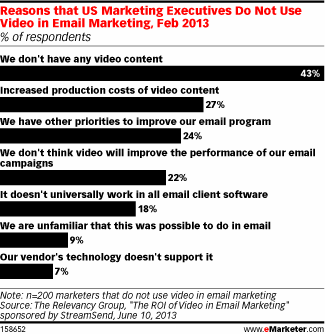 While lack of video content is the most prominent obstacle for email marketers, the costs of producing videos is a secondary hurdle, for 27% of respondents. In my opinion, this makes more sense as an obstacle for marketing folks, as typically video production can cost in the ballpark of tens of thousands of dollars. So how can millions of videos be created cost-effectively? Enter, once again, SmartVideo.
One of SmartVideo's core capabilities is high scalability with limited investment – allowing for an infinite number of videos to be created measured in mere pennies. I'm not talking hundred or thousands, but millions of videos, unique to each viewer.
Videos within email marketing communications are highly engaging to today's consumers. According to the survey, 55% of US marketing executives reported higher click-through rates when using video within emails, and our customers see email open rates of 46% when they use 'personalized video' within the subject line, on average. Lack of content is not a valid excuse to deliver a great video experience through a medium for which consumers are showing an "insatiable desire." Top brands across all industries are easily jumping right over that hurdle with SmartVideo.
What do you think? Is there something keeping you from leveraging video in customer communications? Is it lack of content, or cost, both, or something else? Would love to hear your thoughts in the comments section below.