The last few events we've attended (IRCE, VideoNuze, Forrester CxP) and the last few reports that have surfaced (from comScore, Nielsen and BrightRoll) have made it crystal clear: we are in the age of the video. In the last month alone there has been a plethora of stats, surveys and findings published and disseminated into the abyss of the web. Allow me to distill it all and summarize for you… Here is the current state of the online video advertising industry in the U.S. with the key stats you need to know, now.
Video by the Numbers… in the Last Month Alone
Keep in mind that the following numbers only represent U.S. Internet users this past May 2012. These numbers are record-breaking. Research and findings by comScore.

36+ billion online content videos and 10 billion video ads were viewed by 180+ million users
21.9 hours of online video content was watched by the average viewer
151+ million unique viewers of Google/YouTube made it the top online video content property
52% of total U.S. population were reached by video ads, an average of 64 times in the month
Video (– Display) + TV = The New Media Mix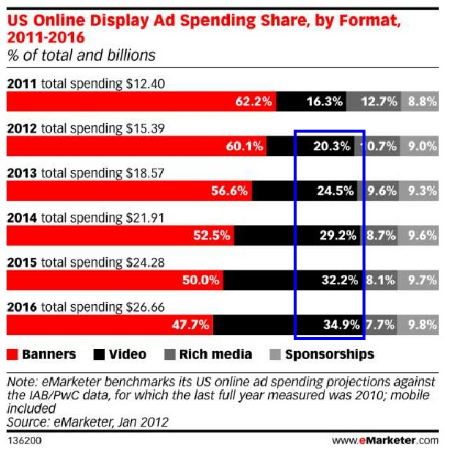 Video has begun to eat display ad's spending share, and is expected to into 2016, according to both eMarketer and BrightRoll. According to BrightRoll's US Video Advertising Report from June 2012, display is becoming a thing of the past as 87% of their survey respondents agreed video is more effective than display. Are display ads the new print ads? The graph at right depicts video eating display ad spending share into 2016. Source: eMarketer.
While video ad spend takes a bigger slice of the pie from display, will it ever come close to TV's ad spend? Both BrightRoll and comScore report that video ads are just as effective as TV ads. More so, comScore reported from this year's TV and digital upfronts that the two used together have a synergistic effect for a superior media mix. Video ads can supplement a TV media plan to increase the campaign's effective reach. Cross-media campaigns are now king.
To Me? To You? Targeting is Tried and True
Contextual and behavioral targeting are the most valuable forms of online video advertising, far surpassing demographic and geographic targeting, according to BrightRoll's report. The report also showed that targeting capabilities are the most valuable aspect of online video for advertisers.
We Feel the Need for Speed… of Research!
Despite these astonishing statistics, the general consensus from all sources is that advertisers want more research on the measurement and ROI of online video. What is the impact of digital video on offline purchase behavior? How is video ad performance compared to TV?
One thing is certain: online video isn't going anywhere. Today's customer needs interaction, engagement and connection, and video is the optimum tool for it.
What are your thoughts on online video content and ads? Feel free to share in the comments below, I'd love to hear from you.