Last week in sunny Santa Clara, Calif., LiveRamp hosted its annual RampUp! Summit with more than 1,500 brands, agencies and industry insiders in attendance. In addition to the excitement about the sun and warmth from the folks who had traveled from harsh winter weather, there was a buzz in the air about using data to run more efficient, cross-channel marketing programs. The morning kicked off with LiveRamp's CEO, Auren Hoffman, and a fireside chat with Kevin Akeroyd, the GM and SVP of Oracle Marketing Cloud. Kevin made a significant statement that set the stage for the rest of the day: "There is zero reason why any advertising shouldn't be performance-based given all the data that is available."
Digital advertising has certainly evolved over time – do you remember back in 1994 when AT&T introduced one of the first-ever Web banners? Jump forward to a few years ago and the emergence of programmatic buying; it's a completely different ball game now. The recurring theme throughout many of the summit sessions at RampUp! was loud and clear – programmatic should be a key focus to your marketing strategy. Joe Zawadzki from MediaMath stated, "Programmatic is inevitable. We will stop talking about it as a thing; it will be the way that marketing is done." Although it's very much mainstream today, programmatic continues to evolve as the accessibility and usage of data improves and as new technologies are introduced. Two key areas discussed at RampUp! are at the forefront of this next evolution of programmatic advertising: 1st party cookies and the "right creative."
Adobe handed out chocolate-covered cookies in the Summit goody bag with a stamped tagline – "Unleash Your First Party Cookies." Both clever and delicious, these chocolate treats prompted a lot of conversation. Dave Hendricks, president of LiveIntent, stated that "the era of 3rd party data is descending and 1st party data is ascending." And he's absolutely right. Marketers are now able to use their 1st party cookies with programmatic technology to improve accuracy and performance, among other things. They're finally in a position to take back the control of their own data and be more effective in how it is used in advertising.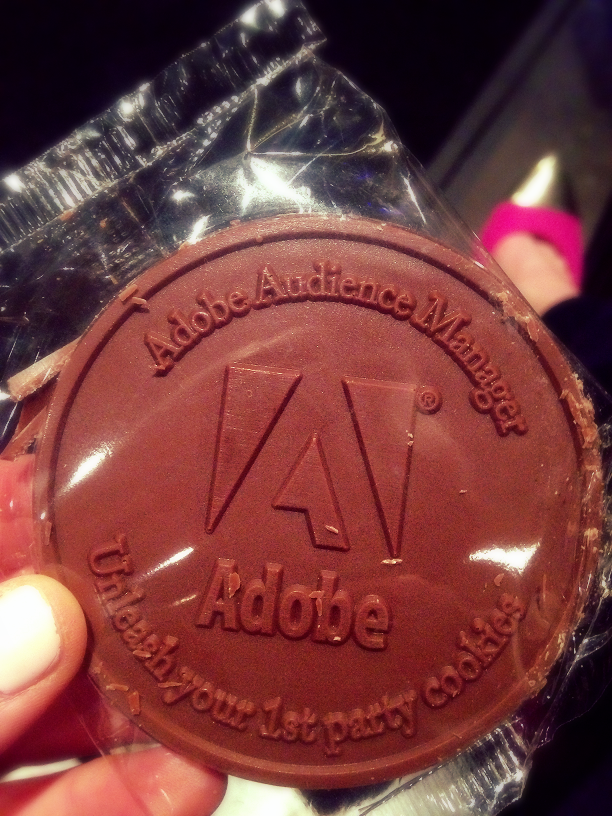 In addition to 1st party cookies, creative is another area of transformation. Marketers use programmatic technology to reach the right person at the right time with scale and pricing efficiencies. However, what about the right message? It seems as if the industry has only begun to dip its toes into what is possible with creative messaging and personalization at scale in this vastly growing programmatic landscape. Macy's Nikhil Raj hit the nail on the head – personalization means the right time, right person AND right message.
Sure, weather-based creative messaging has been around for a while. So has dynamic location messaging. But true personalization can go far beyond showing a consumer that it's raining outside and locating the closest store to buy an umbrella. There is an enormous opportunity for marketers to use 1st party data and truly individualize a message that is completely relevant to the consumer at that exact moment in time with SmartVideo Advertising. Brands can finally combine the power of sight, sound and motion with their own data to deliver a great experience to customers and prospects in real-time, at scale. This personalized approach has proven to address performance and brand advertising objectives, delivering incremental conversion and revenue along with a measurable increase in brand engagement.
As discussed in the "Delivering Personalized Experiences Across Channels" session, it's a bit early to use the consumer's first name in a pre-roll video advertisement. That could come across as "creepy." But personalization is not just about a person's first name. It's about individualizing the ad creative using a variety of different stories and 1st party data points. It's about real-time technology that displays relevant messaging at the exact moment the ad is viewed.  It's about driving performance and value with video, beyond just high completion rates and a successful brand study.
Were you at the RampUp! Summit? How is programmatic integrated into your marketing strategy? Are you ready for truly individualized pre-roll video advertising that performs? We want to hear from you!