This week, SundaySky released our annual State of Online Video Report, collective research from industry leaders and experts, as well as our own trend data and perspective. It will probably come as no surprise that 2012 was a record-breaking year for video: an all-time high of viewers (182 million), content videos consumed (456.6 million) and video ads viewed (105.4 billion). But my favorite finding from the report? Personally relevant video is fostering higher viewer engagement.
2012 will be remembered for the first online Olympics and the first digital election… perhaps not the year of personally relevant video, but we did learn that personalization is the key to increasing video engagement. Typically, short-form videos designed for communication to a mass audience (i.e., one-to-many product videos) are viewed with a 50% completion rate. Yet we found that viewers will spend 2.5x more time watching a slightly longer short-form video if the content is personally relevant to them.
Video content has become a standard in email marketing, as it greatly increases the likelihood of email opens. The average text email open rate is 11-22%. When you add 'video' to the subject line of marketing related emails, open rates rise up to 30%. SundaySky data also reveals that when customer emails contain video content that is personally relevant to the recipient – such as a bill, statement or account status – open rates jump to 40-60%. Furthermore, the click to play rate for personalized video ranges from 80-99%.
So what does this all mean for 2013? Don't expect video's growth to slow any time soon. Video's place in ads and email marketing is on the rise, as is mobile video viewing (Adobe cited 94% mobile video ad completion rates at yesterday's VideoSchmooze:NYC event) and video paired with TV. But these are all expected trends.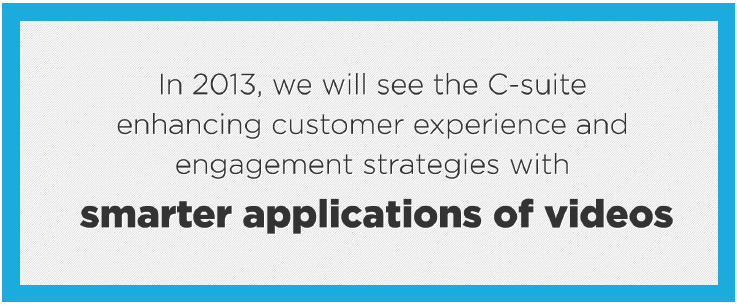 Customer experience and customer engagement strategies have C-level attention across industries. Forrester cites personalized video as an emerging technology for CMOs to watch for "driving deeper levels of [customer] engagement," and we couldn't agree more. The powerful combination of big data and video can deliver customer experiences that are personalized, real time and offer increased levels of interactivity. These traits drive not only deeper engagement, but also greater lifetime value and brand advocacy.
We've seen some early adopters of video for customer engagement in 2012. Seven of the top 10 US cable operators and telecommunication providers are pursuing customer care strategies that involve the delivery of personalized video bills to their customers in order to proactively educate and support them. And we know viewers will watch a video for a longer period of time if it is personally relevant to them. Watch for related industries that enjoy recurring customer relationships to adopt similar strategies for their monthly statement delivery, such as insurance and financial services. For example, health insurance leader Humana announced its intent to deliver a smarter explanation of benefits statement to customers via video.
Additionally, ecommerce giants will look to build smarter, more relevant loyalty programs, especially to drive program enrollment and utilization. Enhancing loyalty programs with personalization features, such as preferences, transactional history, social data, and communication via the most engaging medium – video – will be a recurring theme in 2013 that we look forward to.
What did you think of video in 2012, and what are you forecasting for 2013? Share your thoughts in the comments section below.