I recently read an interesting interview with the CEO of a startup regarding VCs, the ad tech industry and the place of agencies. The assertion, as described by the editor: "venture capital has flooded the digital media industry, particularly in advertising technology."
My take on the ad tech market: Red Ocean. In ad tech, too many companies are offering similar solutions to the same customers with limited to no technological barriers to entry.
Pixel tracking code is simple and easy. Web analytics tools are widely available and provide advanced interfaces. Campaign management tools are accessible – simple, easy to use, cheap. There are plenty of ad networks, buying and selling media. Hundreds of companies are making arbitrage profits from deploying and optimizing campaigns. As an example, just two to three years ago, display ad retargeting was considered an innovation. There are more than 30 companies who now play in retargeting, and so turning what was an innovation into a commodity.  Just look at the infamous LUMA Partners slide.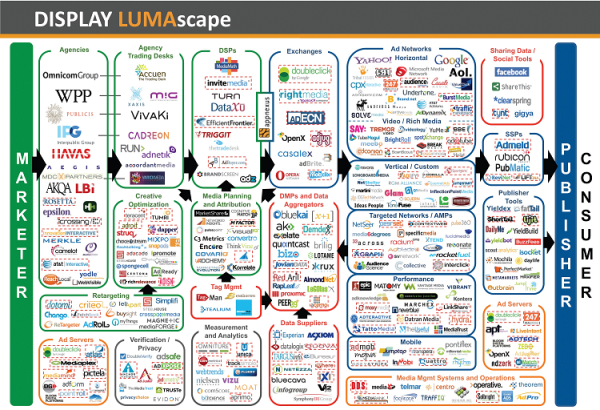 So the big question: What is the next big thing in ad tech? After flooding the market with overlapping ad tech companies, where should VCs put their next bets?
My answer: disruptive technologies. Instead of further crowding a super-saturated market of related solutions, discover and back disruptive, game-changing concepts that:
Are aimed at new methods of engaging consumers
Focus on sustainable engagements and relationships, rather than short-term campaigns
Bring value to consumers, not just the advertisers
Display advertising is great, and according to eMarketer, spend on banner ads will approach $9B this year, but everything that can be done there has been done.
In the DigiDay interview, the CEO also mentions that agencies are struggling to find their place. Agreed – this has never been more true. If agencies would only take the lead on bringing innovations to their clients, they'd have a chance of establishing themselves as strategic. Otherwise, leading brands will discover and execute on new innovations on their own. Certainly, SundaySky customers are doing so in their adoption of SmartVideo.