In the year ahead, we anticipate that personalization and customer experience will be key trends for healthcare payers, largely due to the recent release of the health insurance marketplace, the consumerism of healthcare, and a shift in consumer expectations.
Payers will need to engage new members with exceptional interactions to offset initially poor experiences with the Health Insurance Marketplace ("Exchange")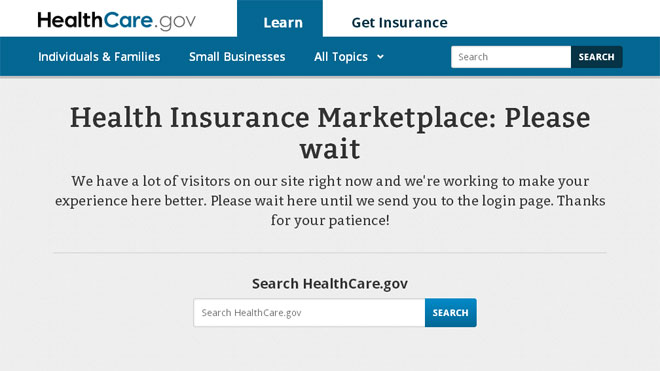 Despite initial buzz and excitement around the release of healthcare exchanges, they've proven to be quite a disappointment thus far. Clunky systems, glitches, poor site design, and the inability to handle web traffic have not only prevented many from signing up for health insurance, but have also created an incredibly frustrating experience for consumers. Quite frankly, health insurance exchanges have not lived up to customer expectations, and insurers will likely suffer in 2014 if they do not create mitigation plans.
While healthcare payers are not to blame for the poor exchange experiences, they cannot avoid the fact that many new customers will join a plan with a negative predisposition toward the overall health insurance market. This makes it even more critical that insurers provide positive, memorable experiences for members, particularly during the first 90 days of a new member relationship. Health insurance companies must first reassure new members of their purchase decision, and then drive awareness of additional value through education on plan features, health and wellness programs, and other unique plan benefits.
If payers can successfully create a series of exceptional interactions, then they will win the trust and satisfaction of their new members, building the foundation for ongoing, long-term relationships, preventing member turnover, and ultimately impacting top line revenue. (A report by Forrester Research estimates that above average customer experience scores can keep customers from switching health plans and save health insurance companies up to $4M in revenue!) The opportunity in 2014 is huge, but will only be fruitful if insurers are willing to invest in new member engagement strategies.
Consumers demand relevance and personalization from healthcare payers
Historically, payers have focused their communication efforts on employers, as this represented the majority of their direct customers. However, the Affordable Care Act has led to a rise of the individual in healthcare, creating a need for payers to augment traditional efforts and communicate directly with consumers. This large, influential group has high expectations set by brands in other industries, such as Marriott, Target, and Amazon, and demands personalized, tailored experiences (which some call a "mandatory component" of customer experience!).
While most payers agree that they cannot take a "one-size fits all" approach to communicating with individuals, a report by Triple Tree notes that early consumer-focused investments leave much to be desired. This coming year, expect healthcare payers to leverage business intelligence and analytics platforms to deliver personally relevant messages and recommendations across the customer lifecycle, whether it's a promotional message pushing individual plans, an onboarding communication promoting targeted services that educate and deliver customer value, or an explanation of benefits statement recommending generic drug alternatives and health and wellness programs most relevant to the member. If payers can do this, then they'll see higher adoption, engagement, and retention rates.
What do you think? As a marketer, how do you predict healthcare payers will better engage customers in the new year? As a consumer, what kind of experiences do you expect?