Everybody is talking about online video – product videos, video advertising, personalized video and more. There are many compelling use cases for online video, but once a video is produced, the medium by which it is delivered can be as critical as the video content itself in order to maximize engagement. Following are some video placement best practices and considerations that we've collected over the years and recommend to our customers:
On-page video placement
Online brands may choose to make video available on a webpage – whether in the context of a product listing on the public site or in customer portal behind a login.
1. Front and center. Video can be the most engaging online asset you have, so make sure consumers see it and view it. The video should be visible when the page loads. In other words, do not place it "below the fold" and require users to scroll down. In addition, the call to action should be prominent, e.g., "Click here to view a video about…" or show a "Play" button. Below showcases an example of above-the-fold video placement on Coca-Cola's homepage.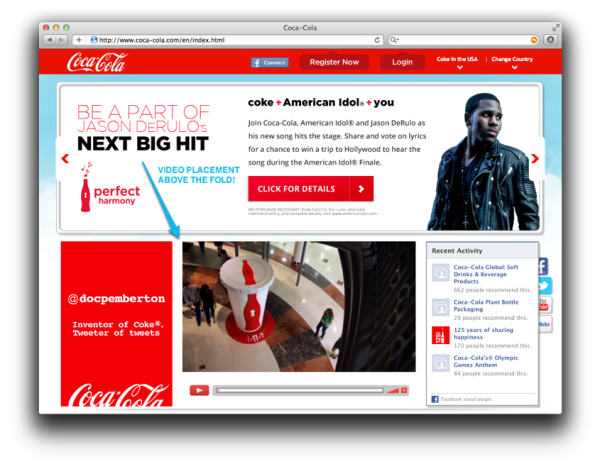 2. To auto-play or not to auto-play. This depends on the page on which you are placing the video. If placing video on a dedicated landing page where the user expects to see a video (more on this below), auto-play is recommended. Otherwise, let the viewer choose when to start. Apple's iPad landing page is a prime example of both options at work. The viewer automatically views a :30 second preview of the product, and then has the option to view three other product-related videos.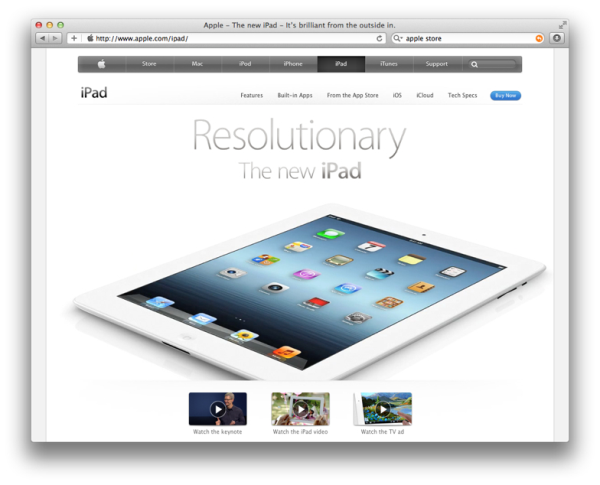 3. Maximize the 'play' experience. Videos should play as embedded in the page or in a "LightBox" player. The jury is still out on this one, but we have seen success with both. The method that you choose really depends on the type of video, target audience and desired action. LightBox guarantees that your viewers are focused only on the video by opening a layer on top of the page that plays the video, such as the below example of a Tiger Direct product video. That said, the layer will block access to everything else on the page, so multi-taskers may not appreciate this approach. A/B testing is recommended to validate results.
Email & landing page placement
When incorporating video in email, it is best practice is to send consumers to a landing page to view the video.
1. Subject line lifts open rates. Make sure to change the subject line accordingly, letting the user know that the email includes a link to a video. We have seen strong uptake in email open rates when the subject line sets the right expectation.
2. Placement above the email fold. Make sure the link to the video is visible when the email opens. Again, do not place the link "below the fold," requiring users to scroll down.
3. Thumbnail preview is key. Use a thumbnail for the video link, and better yet – use a thumbnail that is showing a part of the video. This works extremely well in personalized videos where you are able to present a personalized thumbnail.
In this Disney example, an email is sent to families as they are about embark on a Disney vacation with a video thumbnail that includes showing the family's name. You will also notice in below sample email, the "Lee Family Vacation" thumbnail has optimal placement: above the fold.
4. To Auto-Play or not to Auto-Play? As mentioned above, if the user clicks a link to see a video and reaches a landing or a product page, auto-play is the way to go.
To summarize: Video is the best tool for engaging clients, so make sure your customers see what you have to offer. Whether you are using video in email campaigns or on a web page, ensure your video is highly visible so that your customers can take advantage of it.
We'd love to hear from you. What are your favorite video placement best practices?
---